**This post contains affiliate links and I will be compensated if you make a purchase after clicking on my links.
What makes you happy? What makes you look forward to each new days? For me, it's my family and OUR happiness.
Each and every single one of us on this planet definitely has something that keeps them going, that help them get through the days and look forward to better futures.Becoming happy while achieving your goals.


Check out the story of two friends who came up with something simple yet so meaningful that it turned into a dream come true for them.
Griffin and Paul were travelling through Costa Rica when they met these bracelet artisans who hand crafted simple bracelets, colorful bracelets that captured the essence of their journey. These two bracelet artisans lived in poverty and Griffin and Paul asked them to make 400 bracelets for them to take home. Who would have thought that this will be their first step into a successful partnership.
When they returned to San Diego, California they placed the bracelets in a bowl at a local boutique and within days they were sold out and people were asking for more. The simple bracelets which normally represent friendship, turns out to mean much more to them, it symbolizes the simple things in life hence the name they came up with, Pura Vida.
Pura Vida
means Pure life in Spanish, taking things slowly. Enjoying the simpler things in life but living life to the fullest. How cool is that?!
From selling a few bracelets a week, now Pura vida bracelets are worn by millions.
Just looking at the bracelets on their site, I definitely see why. But for me, it's not only how simple these bracelets look but each and every one of them stand out with uniqueness and of course, the meaning behind the bracelets. Pure life. This duo definitely came up with a meaningful product line.
Check out some of their products and styles
Millions of others agree with their concept too and proud on showing off their Pura Vida bracelets, living life to the fullest!
unique as the person wearing it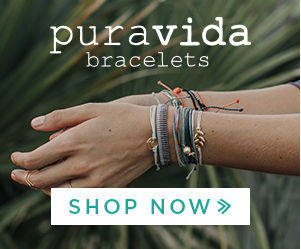 Since I love sale items, I want to show you my Top picks from Pura Vida sale items:
Bestie Pack
The bestie pack! What better way to express yourself than with the 10 best selling originals from Pura Vida! Individually crafted so each bracelet will be unique, the more you wear it, the more personality comes out.
Macrame Night Bag
Sooo cute and stylish! My personal favorite. Perfect size for my phone and some cards/cash! The design really stands out and the size is an exact fit for small belongings.
Journal or diary or just something you can jot down quick notes or lists on, do it in style with this printed journal from Pura Vida. Elastic strap and comes with a Pura Vida pen.
these are great deals since they are 20% off and Buy one get free!
They definitely turned the bracelet industry around and gave more meaning to these bracelets. Hopefully this will also be an inspiration to aspiring entrepreneurs out there to never give up on what they have their heart and mind set on.
Always best to stick to the true meaning of keep it simple and let it be loud through meaning!
Please drop by their site and check out what they have to offer, great prices, unique designs and awesome deals!